Dear friends and membership,
Today I am proud to say that the Brooklyn Tea Party is alive and well. We have our ratified constitution in hand. We are holding regular meetings. Our meetings are organized and run by the club officers with care. We even have ourselves on the front lines of the NYC $.05 bag tax. The BTP is on the move and we are becoming a force to be reckoned with.
With all that said I would like to take you all into the not-so-distant past. Our former club presidents dreamed of the day when the BTP would be running our own candidates for office. Friends, let me tell you: THAT MOMENT IS NOW!
Two of our very own are seeking office to Make NY City and State Great Again. They have the drive, the passion, and the desire to accomplish these feats. Did I also mention the knowledge? They have that too.
First up is our own President Glenn P. Nocera. Glenn is running for the seat currently vacant in the 44th Assembly District in Brooklyn. Our second member seeking office is our Treasurer Daniel Ramos. He is looking to run in the 52nd Assembly District also in Brooklyn. Both men need your help with acquiring enough signatures to get onto the ballot for their respective districts as Republicans.
Folks, the ball is in our collective court! Its time to take our passion, our hard work, our anger at a broken system and grab for our destiny! We may not win everything this year but I'll tell you what: NYC will be placed on notice that the Brooklyn Tea Party is here and we will be a force for change! Come join us on Sunday at our meeting to discuss this further. That email was sent today.
Those interested in volunteering please send an email to BrooklynTeaParty2009@gmail.com with your name, email, and a number we can reach you at.
Alan H. Bemben
Club Secretary
Brooklyn Tea Party
Established 2009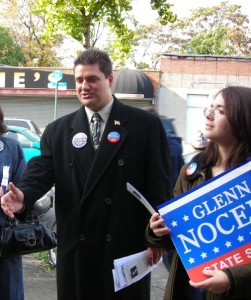 Glenn P. Nocera is a proud Conservative Republican activist. Glenn had served as the Brooklyn Young Republican Club President from 2011-2015, and Two terms, as the Brooklyn Young Republican club Treasurer from 2009 to 2011. and is its current Chairman of the Board of Directors as of June 28,2015. The Brooklyn Young Republican Club is an organization that has been serving Young Republicans of Brooklyn since 1880. In the past, he has worked for numerous political campaigns for Mayor, Governor, City Council, and President.
    Glenn received his B.A. in political science from Brooklyn College in 1998. While attending college, he started the  Brooklyn College Young Republicans Club and served three terms as President from 1995 to 1998. Glenn also served as the youngest member on the Board of Governors at the Seergy Republican Club. He also served as Deputy Speaker of Student Government, Chair of Academic Affairs, and University Student Senate Delegate.
    In 1998, at the age of 23, Glenn Nocera made his first run for public office, seeking to represent the 48th Assembly District. Glenn ran against Assemblyman Dov Hikind and got 27% of the vote in a democratically controlled district. In 2000,and in 2012 he ran to be a RNC delegate to the Republican National Convention.. In 2008, he made his second run for state-wide office to represent the 21st State Senate District. He ran against incumbent State Senator Kevin Parker and demonstrated that Republicans still have a pulse in that district by running a very spirited campaign. On June 7, 2016 Glenn announced that he would be seeking the Republican nomination for Assembly in the 44th Assembly District. Glenn has also been a member of the Kings County Republican County Committee from 1995 to present and was re-elected with 95.8% of the vote in 2011. As of July of 2013 Glenn Serves as a Republican Male State Committee Member or better known as a Republican District Leader for the 44th Assembly District.  He has also served as a  Republican judicial delegate from 1995-1997. In September of 2014 Glenn was appointed as the Communications Director of the Brooklyn Tea Party, and on Feb 1, 2016 became the 4th President of the Brooklyn Tea Party.
    In addition, Glenn has served his community as a Auxiliary Police Sergeant at the 66th precinct since 1995, where he served as a first responder  during the terrorist attacks on our city on September 11, 2001. He currently serves as a Campus Police Officer at Brooklyn College, where he received an award for valor for evacuating  an 80 family Apartment Building that was on fire.
http://www.kingscountypolitics.com/44th-ad-race-three/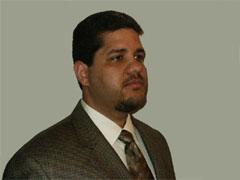 Mr. Daniel Ramos graduated Brooklyn College (CUNY) with a Bachelor of Science in the field of Computer Science.  In 1991, Mr. Ramos created Liberty Computing Center and incorporated the same in 2005. His services have been utilized by many within the New York Metro area.  Mr. Ramos is also an investor and owned of commercial real estate such as large apartment buildings.  Mr. Ramos is currently enjoying the flexibility of his schedule and dedicating his time to his wife, his 7 year old daughter and 5 year old son. Currently Mr. Ramos has become intrigued by our political process and is looking at ways to improve it by participating.  He is looking at helping small businesses, entrepreneurs, and those who support individual freedom and the Constitution of the United States with an emphasis on the second amendment.
     Current: • President at Liberty Computing Center, Inc. • Owner of LocalBroadcasting.TV (Project under development) • Commercial Real Estate Investor • Committee Member at Community Board 6 Awards and Honors: • Honored with the 2010 Entrepreneur of the Year Award by the Caribbean American Chamber of Commerce and Industry, Inc (CACCI). • Elected Secretary & Treasurer for BNI-DoneDeals • Elected President of Brooklyn College Computer Science Society. • Elected President for local Building Tenant Association. Past Experience: • Director of Technology Services at People Against Sexual Abuse, inc. • Adjunct Faculty at Brooklyn College Adult & Continuing Education For more current info: •