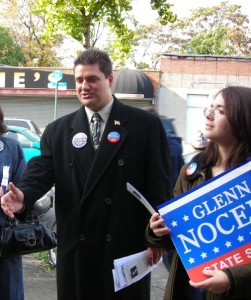 Glenn P. Nocera  President
  Glenn P. Nocera is a proud Conservative Republican activist. Glenn had served as the Brooklyn Young Republican Club President from 2011-2015, and Two terms, as the Brooklyn Young Republican club Treasurer from 2009 to 2011. and is its current Chairman of the Board of Directors as of June 28,2015. The Brooklyn Young Republican Club is an organization that has been serving Young Republicans of Brooklyn since 1880. In the past, he has worked for numerous political campaigns for Mayor, Governor, City Council, and President.
    Glenn received his B.A. in political science from Brooklyn College in 1998. While attending college, he started the  Brooklyn College Young Republicans Club and served three terms as President from 1995 to 1998. Glenn also served as the youngest member on the Board of Governors at the Seergy Republican Club. He also served as Deputy Speaker of Student Government, Chair of Academic Affairs, and University Student Senate Delegate.
    In 1998, at the age of 23, Glenn Nocera made his first run for public office, seeking to represent the 48th Assembly District. Glenn ran against Assemblyman Dov Hikind and got 27% of the vote in a democratically controlled district. In 2000,and in 2012 he ran to be a RNC delegate to the Republican National Convention.. In 2008, he made his second run for state-wide office to represent the 21st State Senate District. He ran against incumbent State Senator Kevin Parker and demonstrated that Republicans still have a pulse in that district by running a very spirited campaign. On June 7, 2016 Glenn announced that he would be seeking the Republican nomination for Assembly in the 44th Assembly District. Glenn has also been a member of the Kings County Republican County Committee from 1995 to present and was re-elected with 95.8% of the vote in 2011. As of July of 2013 Glenn Serves as a Republican Male State Committeeman or better known as a Republican District Leader for the 44th Assembly District, and on 11/4/16 became the Sergeant At Arms for the Kings County Republican Party.  He has also served as a  Republican judicial delegate from 1995-1997. In September of 2014 Glenn was appointed as the Communications Director of the Brooklyn Tea Party, and on Feb 1, 2016 became the 4th President of the Brooklyn Tea Party. 
    In addition, Glenn has served his community as a Auxiliary Police Sergeant at the 66th precinct since 1995, where he served as a First Responder  during the terrorist attacks on our city on September 11, 2001. He currently serves as a Campus Police Officer at Brooklyn College, where he received an award for valor for evacuating  an 80 family Apartment Building that was on fire.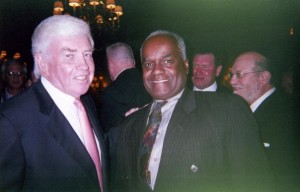 Cartrell Gore  Vice President
After graduating from John Jay (formerly Manual Training) High School, Cartrell Gore, a lifelong Brooklynite, he attended Hunter College. There he earned a Bachelor of Arts degree in Economics with a concentration in business management. His minor was Home Economics.
Office work was his primary occupation until he became a teacher in 1984. Business education, with some math and English courses were his specialty. During those years he also taught adults on welfare and happily saw them get off the dole. As of March 1997, he has been an Attendance Teacher in which capacity he fights truancy.
At about the same time he started a part time career as a free lance journalist specializing in business and political articles.
In August of 1990, he enlisted in the United States Navy Reserves where he proudly served his country until reaching the mandatory retirement age of 60 in 2011.
Politics has always interested Mr. Gore. In September of 1987, he was elected Republican District Leader/State Committeeman in downtown Brooklyn. Just two months later, he was elected to the public office of Area Policy Board. It members chose him to be its treasurer. In that position, he learned firsthand how government money is wasted on projects that sound good but offer little or no benefits to society.
In 1994, he switched his registration to the New York State Conservative Party. As a community activist, was commended for fighting prostitution and exposing an anti-Hispanic hate mail campaign. The name of his club is the Booker T. Washington Business League. Their current objectives include offering free C.L.E.P. tutoring so our young can get through college faster and cheaper. Every year they host an annual Child Support Enforcement seminar. It promotes and patronizes each other business enterprises. Their free drain cleaning lessons enable low income people to earn $25 an hour right away. Financial contributions and donations are not sought. Contributions of knowledge is what we seek. Each one! Teach one! Reach one!
Favorite expressions:
"Everything means nothing until somebody helps someone."
"Never argue with the people who serve your food."
"Let's make a practice of committing random acts of kindness."
"Some people say P.U.S.H. Pray Until Something Happens. I prefer to work hard until something improves."
Tough once a slow learner, Mr. Gore became a lifelong learner. While reading the Autobiography of Malcolm X, Cartrell learned that young Malcolm was talked out of his dream of becoming a lawyer. Thereupon, Cartrell felt determined to let no one discourage him from attaining his educational goals.
His degrees in order of accomplishments:
B.A. in Economics and Business Management. Minor in Home Economics.
A.A.S. in Computer Science
B.S. in Accounting
M.S. in Guidance Counseling
M.S. in School Administration and Supervision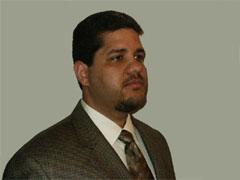 Daniel Ramos Treasurer
   Mr. Ramos graduated Brooklyn College (CUNY) with a Bachelor of Science in the field of Computer Science.  In 1991, Mr. Ramos created Liberty Computing Center and incorporated the same in 2005. His services have been utilized by many within the New York Metro area.  Mr. Ramos is also an investor and owned of commercial real estate such as large apartment buildings.  Mr. Ramos is currently enjoying the flexibility of his schedule and dedicating his time to his wife, his 7 year old daughter and 5 year old son. Currently Mr. Ramos has become intrigued by our political process and is looking at ways to improve it by participating.  He is looking at helping small businesses, entrepreneurs, and those who support individual freedom and the Constitution of the United States with an emphasis on the second amendment. Also On Nov 8, 2016 Mr Daniel Ramos made a run for Public Office when he was a Candidate for the New York State Assembly in the 52nd AD.
     Current: • President at Liberty Computing Center, Inc. • Owner of LocalBroadcasting.TV (Project under development) • Commercial Real Estate Investor • Committee Member at Community Board 6 Awards and Honors: • Honored with the 2010 Entrepreneur of the Year Award by the Caribbean American Chamber of Commerce and Industry, Inc (CACCI). • Elected Secretary & Treasurer for BNI-DoneDeals • Elected President of Brooklyn College Computer Science Society. • Elected President for local Building Tenant Association. Past Experience: • Director of Technology Services at People Against Sexual Abuse, inc. • Adjunct Faculty at Brooklyn College Adult & Continuing Education For more current info: •
Linkedin: https://www.linkedin.com/in/daniel-ramos-76861b17