Gay "rights" are wrong. Period.
Call us whatever names you like. I'm just enjoying it.
People of liberal persuasion are in all likelihood going to feel a lot of discomfort reading this. And thats exactly why I am writing this article post as a TBTP website editor.
One nation under G-d and and in G-d we trust. Three thousand years ago G-d freed more than one million Hebrews from the decadent Egyptian Empire. The dominant morally corrupt culture of that time promoted the liberal ideals of today. One million people witnessed G-d delivering the first two of the ten commandments, the bedrock of civilization. Under the leadership of Moses the first five books of the Old Testament were written by the word of G-d, and the institution of formal marriage was created to be between a man and a woman only. Anything out of that formal framework, including incest, prostitution and gay relationships, were forbidden to man.
The Hebrews were commanded by G-d to take possesion of the Holyland and drive out the wicked nations that commited the forbidden practices that contaminated the Holyland. Most of the world, including the Greek and Roman empires continued the same corrupt traditions of ancient Egypt.
Again, the institution of formal marriage was, untill two decades ago, the only recognized framework for a relationship between man and woman. The effort to revive and mainstream these ancient wicked practices is recent, and while done in the name of progress, is truly regression to ancient and barbaric behavior.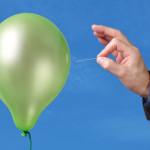 So I gleefully am sticking this sharp pin of protest into the balloon of hot air made by liberals and gay rights activists. Enjoy the resounding pop!