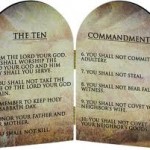 The Foundations of Right and Wrong
As a brooklyn tea party activist and website editor, I urge all tea party members to support decisions by states as well as countries around the world that disallow or discourage the practice of the gay lifestyle and agenda.
Governments can make wrong things legal, but not right in God's eyes. The bible clearly states, Leviticus (18:22, 20:13) that such acts are wrong. Lets use of our first amendment rights to freedom of speech, and put forth the above protest.