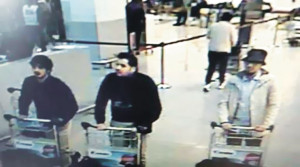 ( Video picture Footage of the suspected Terrorist from the Brussels terror attacks.)
The Brooklyn Tea Party sends our thoughts and prays to the people of Brussels Belgium. We pray that the Victims of this heinous act of terrorism by radical Islamist receive justice as hopefully now our world leaders will finally hunt down these scum from ISIS and send them all back to hell where they all belong. May God watch over America and its allies.
Glenn P. Nocera President
Brooklyn Tea Party.